At the ceremony held in Mainz, Germany, the award was presented to the Türeci-Şahin couple by Sema Doğan, Honorary Vice President of the Aydın Doğan Foundation.
Speaking at the ceremony, Vuslat Doğan Sabancı, the Vice President of the Aydın Doğan Foundation, stated that his father Aydın Doğan was particularly pleased that the award was given to these two scientists working for the entire humanity in Germany. Emphasizing that knowledge leads to new advancements in every field, Vuslat Doğan Sabancı stated that Türeci and Şahin have saved millions of lives by adding their researches of more than 10 years to the achievements of their predecessors by hard work and carrying it forward, and that we owe them a great debt of gratitude.
Speaking at the ceremony, Dr. Özlem Türeci thanked saying that the award is a special appreciation for them. She stated that they have committed themselves to find the Covid-19 vaccine.
Explaining that they are struggling to make the impossible possible, Türeci pointed out that they found the Covid-19 vaccine in less than a year and said, "It has been a success for us to act and unite between our partners, those who trust us, the academic world on the one hand, and the pharmaceutical industry and economic circles on the other."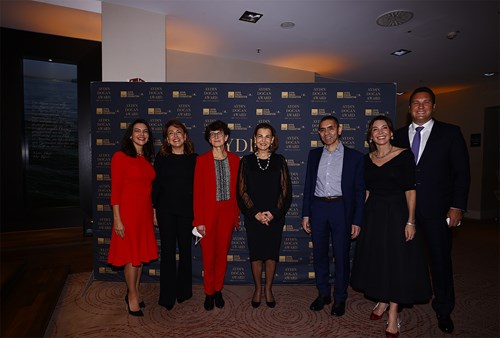 Türeci stated that they were faced with a global threat 23 months ago and they are proud to make a small contribution to the fight against the pandemic, and said, "We are also happy for those who produce other vaccines. A further distance is covered in terms of immunity."
Özlem Türeci pointed out that the pandemic has affected everyone like no other and has deteriorated physical and mental health, and said, "Everyone needs to be informed about what and why. This is where the media plays a big role. A socially responsible media is needed."
The ceremony continued with Uğur Şahin's speech: "The values held by the Aydın Doğan Foundation coincided with the values we embraced and represented. These values are the importance given to increasing the quality of life with a holistic approach in the social field in terms of cultural and social development and developments, especially the education of young people and especially the education of girls. These are the values we share in our hearts. We would like to share with you the feeling of pride and gratitude we feel for deeming us worthy of this award."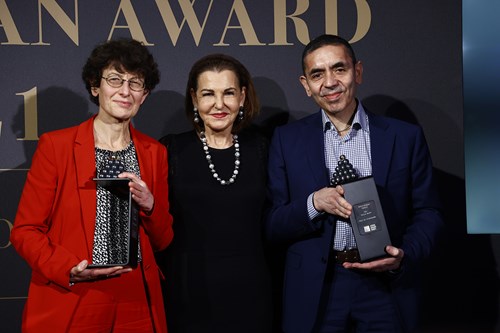 Noting that patience is another important value they attach importance to along with his wife Özlem, Uğur Şahin said, "This success is the result of continuing our research for 35 years, not just 18 months. 35 years to make our dreams come true. We have done hundreds of experiments and researches. We considered most of them unsuccessful as they did not produce the expected results. Even though the results were negative, our belief in success and progress continued. Patience is the keyword for all these."
Uğur Şahin stated that there will be four or five difficult winter months, and he asked everyone to show patience, and indicated that it will be possible to protect ourselves, our family and our neighbors by complying with the Covid-19 measures against new variants, not only by getting vaccinated, but also by following all other measures such as social distance. He concluded his speech by expressing that we should be patient, not lose our optimism, and they believe that they will get a little closer to providing immunity against the virus in the coming summer months.
Aydın Doğan Foundation founding members Arzuhan Doğan Yalçındağ, Begüm Doğan Faralyalı, former German Minister of State and UNESCO Germany President Prof. Maria Bohmer, Dusseldorf Consul General Ayşegül Gökçen Karaarslan, Frankfurt Consul General Erdem Tuncer, Mainz Consul General Sedat Turan, Burda Medya CEO Dr. Paul Bernhard Kallen, Secretary of the State of Rhineland Pfaltz and Federal Government representative Heike Raab, President of the Turkish-German Health Foundation Dr. Yaşar Bilgin, as well as important names in the Turkish and German media, scientists from BioNTech, the Aydın Doğan Foundation Board of Directors and executive staff were also present at the ceremony, which was held with limited participation due to the pandemic conditions.